*THIS EVENT IS NO LONGER TAKING PLACE THIS YEAR*
The Derbyshire Cricket Foundation's T20 Walkathon is back for 2022! Join us on Friday 24th June to take part in either a 20-mile or 5-mile sponsored walk!
Walking continues to play a massive part in our overall well-being and what better way to challenge yourself, than with a sponsored walk. Boasting a similar route to last year, specifically designed with the bonus of a shorter distance for those who can only join us later in the day. This social event appeals to everyone from those looking to challenge themselves individually or as part of a group, to those with younger families or people looking for a gentler approach.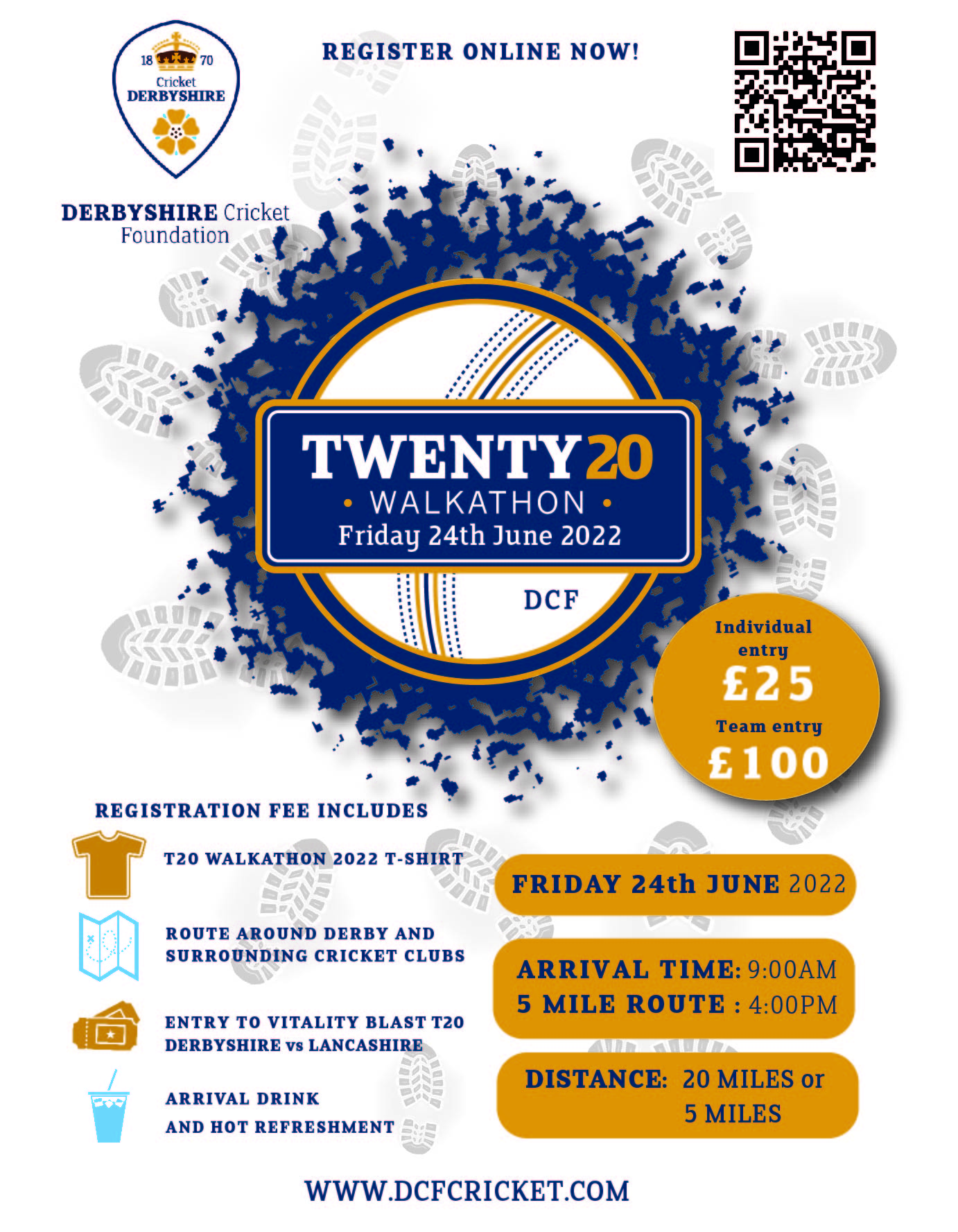 Whichever route you decide we will be encouraging walkers to explore some of Derbyshire's most picturesque countryside and Idyllic cricket clubs. Starting off at Derbyshire's Incora County Ground, we will take in sights from Parker's Piece, Darley Abbey, Breadsall, Morley, and Stanley.  Then heading south we will pass through Locko Park, Spondon, Ockbrook, Borrowash, Elvaston, and then finally back to Derby (the 5 mile route will be a smaller, circular version of the route above also starting and finishing at the Incora County Ground)
You will be welcomed back with some much-needed refreshments and then we will invite you to sit back and relax with family, friends and enjoy the theatrics of the T20 game between the Derbyshire Falcons and Lancashire Lightning.
Arrival for the 20 mile walk will be from 9am on the day, with the event starting at 10am!
Arrival for the 5 mile walk will be 4pm!
Why Take Part?
Our T20 walkathon event helps us raise vital funds which are used to deliver projects in Derby City and the wider county with the aim of improving aspirations and opportunities. The money we raise from this years Walkathon will help us deliver projects like the Holiday Play Scheme that runs throughout the summer in the Derwent area. This programme is specifically aimed at children between the ages of 5-11 who are in receipt of free school meals. Over the course of the four weeks in 2021, children attended on average 12 sessions, we provided 1271 meals, delivered 160 activity sessions, and filled 728 places.
Money raised will also help us support more people through our Access to Cricket Grants, providing grants of up to £300 to enable people to access cricket who might not otherwise afford to.
How do I sign up?
The links to sign up can be found here:
If you would like to enter a group of 4 or more into our team challenge, please contact lauren.tuffrey@dcfcricket.com
How do I donate?
You can donate by:
For more information please contact Lauren Tuffrey, Email: lauren.tuffrey@dcfcricket.com or Phone: 07578 947568