Derbyshire Funding Successes
Access to Funding is consistently identified as one of the top priorities among Derbyshire clubs and the DCF has certainly played a key part in supporting clubs to improve their facilities. Working closely with ECB significant funding has been accessed towards three major projects during 2019.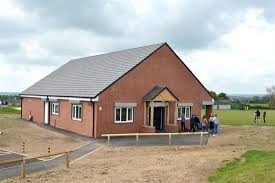 Two were clubhouse and facility buildings these being at Pilsley Sports ground and Greenwich Park, Ripley where Butterley United play. The third project helped with the installation of electricity at Belper Amateurs, hopefully the days of the lights going out because the showers are being used are now well and truly in the past.
In addition to these capital funding successes a further £80K of support came to the county via ECB small grant schemes. In total some 64 clubs received funding through either the "Cricket World Cup Fund" or the "Get the Game On" scheme. While these are relatively small funds they are important as clubs look to develop and improve facilities.
There are lots of opportunities for clubs to apply for sources of funding, but it is crucial that you can put forward a compelling case as many funding streams are heavily oversubscribed, here are a few tips that may help:
Align with the priorities within the "Inspiring Generations" strategy. ECB will be looking at whether clubs support key growth programmes such as All Stars cricket, Women & Girls etc.
Keep your development plan up to date with clear and achievable plans to evidence growth.
Be able to provide written evidence – security of tenure/ lease/ planning if required.
Consider how your project is going to attract support, what will it do for cricket and your community. For example if your project includes social areas they should be welcoming, modern and inclusive; if you looking at changing rooms they should be encouraging more members.
Many projects will need partnership funding in place. Consider how your project will attract partnership funding and how is it going to support the long term sustainability of the club.
Part of the DCF's role is to provide help, guidance and support to clubs regarding improvement of facilities, clubhouses, playing surfaces and practice pitches, including options on funding.
The funding landscape for clubs is ever-changing and ECB is no exception. Further information on funding investment programmes will be shared soon with a view to funding being available from April 2020. There are other areas of support available some of the key ones are:
The primary DCF contact for facilities and funding is Mick Glenn – mick.glenn@dcbcricket.com