It uses the game to increase aspiration, promote social cohesion and create opportunities in diverse communities. There are 300 Chance to Shine Street projects across the country. It's a fast-paced version of the game played with a tape ball – a tennis ball wrapped in electrical tape – in small, enclosed spaces. With six players per team and 20 balls per innings, it's cricket's answer to five-a-side football!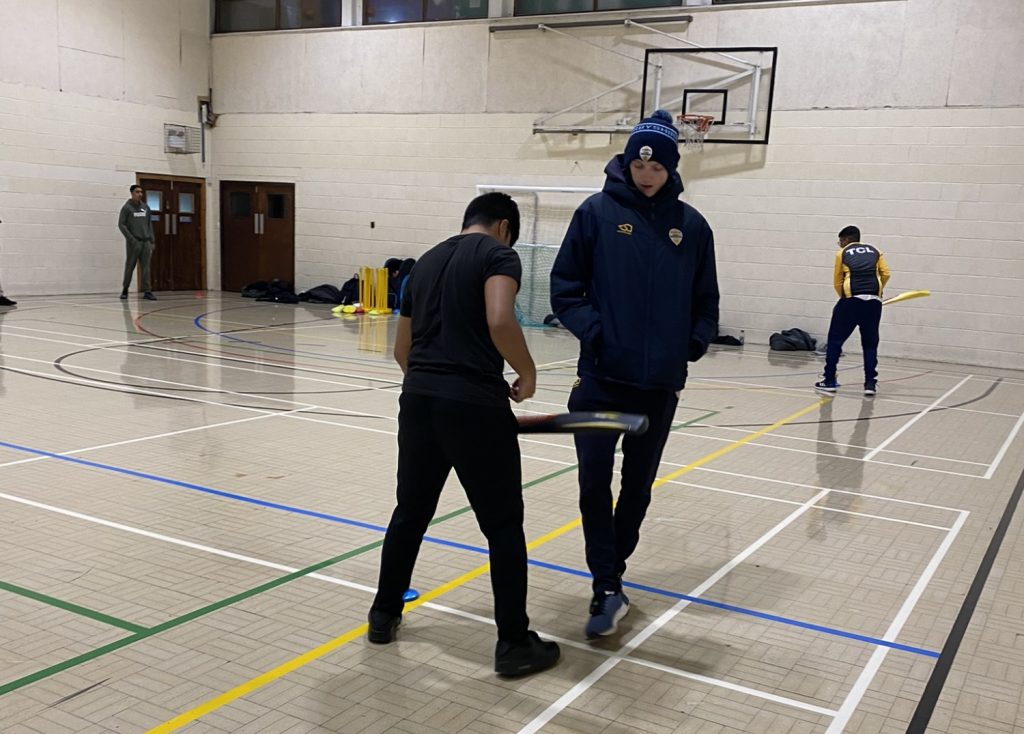 Why do we offer Chance to Shine Street?
We feel that every young person, no matter where they live, should have the opportunity to play cricket. Chance to Shine Street is a counter for a lack of accessible clubs and green spaces in inner-city areas and aims to make cricket accessible to young people throughout the country. Street cricket offers a different way into the sport, with 87% of players not part of a traditional cricket club when they joined the sessions. Some – around 1 in 10 – do go on to play at a traditional cricket club or enter park-based T20 leagues but for most the Street project becomes their club. The projects run after-school or at weekends, they are completely free, players don't need to bring any equipment and can wear whatever they like. The sessions run in sports halls, youth clubs, parks and community centres for two age groups – Youths (8–15) and Young Adults (16–24).
Chance to Shine Street is bringing the game to some of the most disadvantaged areas of England. Three-quarters of Street cricketers live in the 30% most deprived areas of England and the sessions provide them with an alternative to hanging out on the streets or sitting at home in front of the TV. Street is appealing to children from diverse communities. 80% are from BAME backgrounds and two thirds come from families of south-Asian heritage. Street is helping to break down social barriers and integrate people into their local area.
There were 6655 Street participants during 2021/22 and in a recent survey 78% said "I have met people from different backgrounds" and four-fifths agreed "I have made new friends".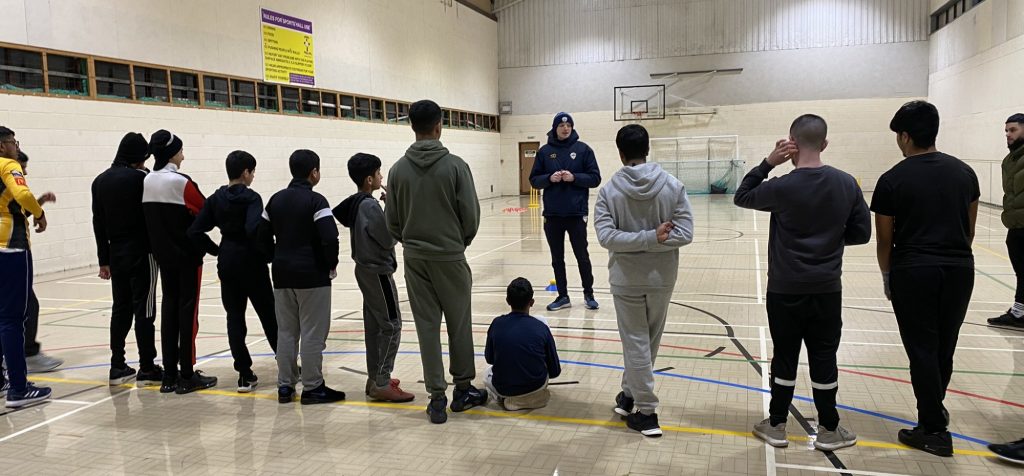 What's Currently On?
In Derbyshire, we currently have Street Hubs on a Monday night at the Sherwin Centre, 6-8pm for Young Adults. There is also a Hub on a Friday night at Dale Primary School 3:30-4:30 pm for Youths.
If Mondays or Fridays don't work for you, we have another youth project running at St Martins School on Tuesday evenings 6-7:30pm.
We have a NEW Girls street session running at the Sherwin Centre 5-6pm. These sessions will be led by a female coach and caters for all abilities that want to come along!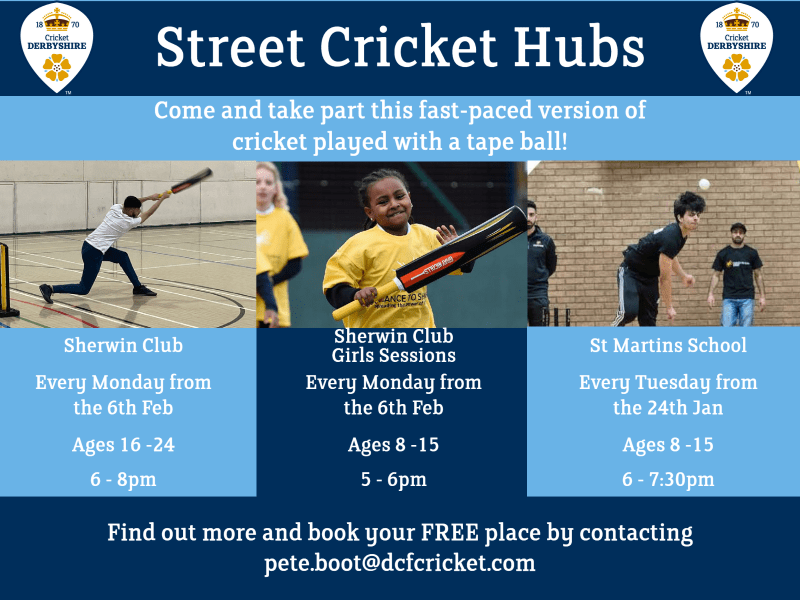 We have another NEW hub starting in March at Shirebrook Academy on Mondays, 3:30-5pm!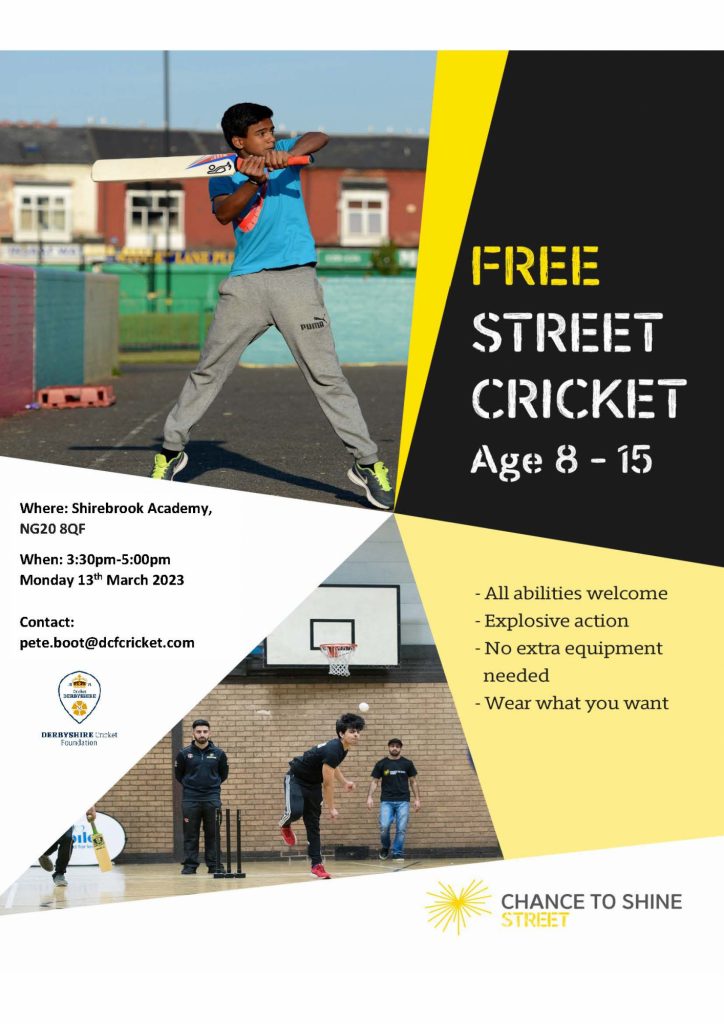 Keep a look out for these and the current hubs and for any further information you can contact Pete Boot on pete.boot@dcfcricket.com