ECB resources for powering a Sustainable Girls Section at your club
We are delighted to share with you the resources to enable you to power thriving and sustainable girls' sections at clubs across your county to achieve ECB's and DCF's ambitions to transform the game for girls'.
There is an editable Instruction Booklet and Development Planning excel document. These are available for you to use immediately for clubs who want to prioritised starting or growing a girls' section this year.
These resources are there to take away the burden of writing a development plan in full from scratch, from club volunteers and make it as easy as possible for clubs to have their own
The resources can be found on our website and are available for your club to download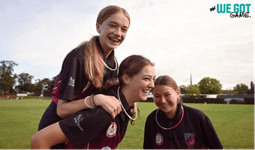 Girls Competitions
Girls U12 Incrediball Competition 2022
Entries are now open for our Junior County Competitions in 2022 which are accessible to any Derbyshire affiliated Club based in Derbyshire. This competition ran well in 2022 with 10 teams from 10 clubs entering across the county. The format will be as follows:
U12 age group and below (Year 5/6/7)
2/3 games on a day
DCF to organise Fixtures/ Results on Play Cricket
16 over matches
8-a-side pairs format
Incredi-ball
Flexibility around fixtures and player registration
Clubs required to have a key adult contact for match days.
Day of the week to be confirmed by clubs involved
Clubs are free to team up with one other local club if they wish, in order to get a full team out. We can help facilitate this process if needs be. Please let us know.
Clubs must register the team under one of the two club names.
We will look to create the fixtures so there are 3 or 4 teams at a venue on a given day to play 2 games each
For all those clubs who are interested, Charlie will set up a call to discuss the offer and to make sure the format suggested is correct for the teams getting involved.
Any clubs interested in entering, please do so here: https://forms.office.com/r/VJEAUxfjsa
Girls U16 Competition 2022
DCF are looking to run an U16 Girls Competition for the first time in 2022. The format will be pairs hardball and will likely be 8 per side. If you club have 8 or more girls aged between 13 and 16 that would be interested, please email charlie.storr@dcfcricket.com to let us know you're interested.