2022 has been an exciting year for the Derbyshire Cricket Foundation and in particular, the work we have done within the community. We are striving to make cricket inclusive and accessible for everyone in Derbyshire and this starts with our work within the local community.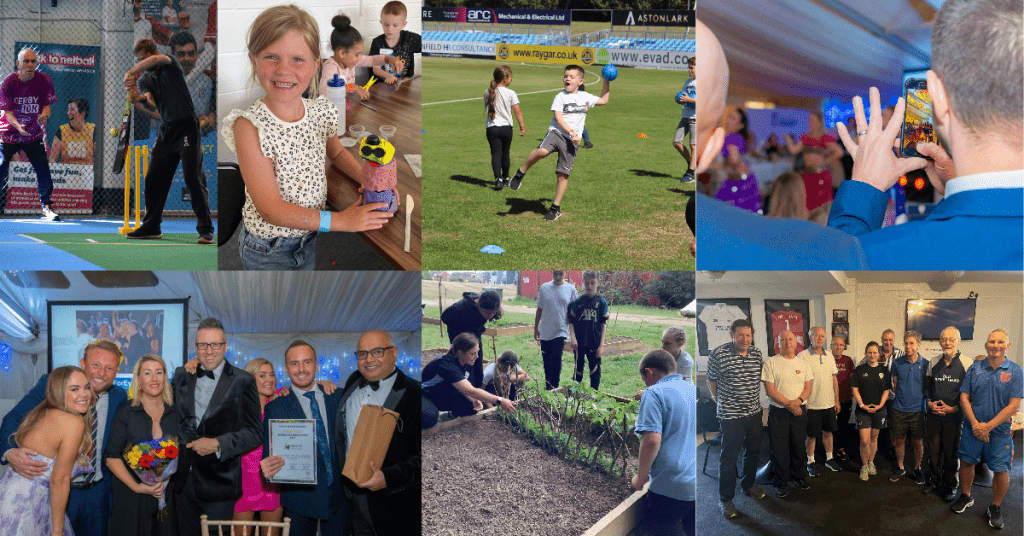 Walking Cricket
The walking cricket programme continued in 2022. Throughout the year we ran walking cricket sessions across 2 venues Alfreton leisure Centre and Willows Sports Centre. The sessions have been aimed at those ladies and gentlemen who are looking to keep physically and socially active. The sessions have been based on an hour's physical activity and then once that has finished the participants have been able to enjoy a nice cup of tea or coffee and enjoy the social side to the sport. We have had good feedback from the sessions we have been running with participants saying they have really enjoyed the session and enjoyed the social side just as much as the physical side.
In 2023 we are wanting to expand our walking cricket programme and take it to new venues across the county. The plan for the new year is to have 4 new walking cricket centres up and running alongside our 2 current ones. If you are interested in our walking cricket programme, please contact jack.richardson@dcfcricket.com or visit our website and have a look at our current walking cricket sessions that are taking place.
Falcons Cricket in the classroom programme
We delivered the Falcons Classroom Cricket at the Incora County Ground. During 2022, we engaged 7 schools who enjoyed a mix of educational and physical activities.
Schools were invited to take up the offer for their students from years 4, 5 and 6 which entailed Cricket sessions, healthy eating workshops, sustainable living activities in the DCF community allotment and disability awareness delivered via a visually impaired cricket session from Disability officer Jess Bakewell.
Seven dates were allocated to the programme during the summer term and we are looking forward to delivering another successful Falcons Classroom programme in 2023. Look out for further information via our website.
Contact Mark Barber if you are interested in finding out more at mark.barber@dcfcricket.com
HAF Summer Programme in Partnership with Aspire Community Wrestling Alliance
As part of our work to support local communities, we worked with Aspire Community Wrestling Alliance Ltd to deliver 4 weeks of Holiday Activities and Food (HAF) programme from the end of July through to mid-August.
90 children were engaged across the duration of the programme with a range of activities and meal provision on offer.
Local Caterer, Josie Hardaker, provided nourishing hot meals every day and Morrisons Community Champion, Sarah, made weekly donations that helped to provide crackers, breadsticks, healthy snacks and fruit, all providing the much-needed energy to take part in the breadth of activities on offer.
Children also had the opportunity to make smoothies, choosing from a range of ingredients. Children were also able to make themselves sandwiches using healthy fillings, highlighting the importance of reducing fatty foods and promoting a balanced diet.
Enrichment activities included drama/creative art activities delivered by Feel Alive, we utilised the community allotment on site at the ground with children learning more about where their food comes from, children were treated to facepainting and balloon modelling, and a wrestling show. The children also enjoyed a bouncy castle and slip and slide during the hot spell this summer.
In terms of physical activity, the children had a go at Visually Impaired cricket, with adaptations led by Disability Officer, Jess. There was also the opportunity to try curling, boccia, table tennis, archery, skipping, football, and use the catching mats. Zumba sessions were provided as well as cycling with Cycle Derby and basketball skills and drills delivered by the Trailblazers.
Diwali Celebrations: Saturday 15th October
The celebrations were held in the Greene King IPA Marquee at the Incora County Ground, with the popular showpiece event being well supported once again, featuring bhangra music, Bollywood dancers, fireworks, and a traditional Indian 3-course meal. The Cricket Derbyshire India Club have been successfully running the Diwali celebrations for the past 9 years, bringing together individuals and businesses from across Derby and the wider community to celebrate the festival of lights.
The Diwali event – sponsored this year by Bowmer and Kirkland, TMS Management, Bal Construction, Invictus Communications, Central England Co-Operative, Specsavers, Unison, Slice of India, AG Fencing and Landscaping, R & R Student Lets, Sky Recruitment Solutions and Capella Professional, Trent Barton, and Fairfax Meadow – raised vital funds for the Derbyshire Cricket Foundation.
This years event saw 280+ people attend the celebrations ,raising over £13,000 for the DCF! This was a record breaking amount raised and we are extremely grateful to everyone who attended, sponsored, and helped us put the event on. These vital funds will have a massive impact on the projects that we run across Derby City and the wider county.
Share this post