It was another strong year for National Programmes in Derbyshire with 63 All Stars Cricket Centres and 45 Dynamos Cricket Centres and we were delighted that 2374 children got involved across the programmes this year!
650 of these children were female which equated to a high 28% of participants, the highest we have ever had. We trained 61 new activators in 2022 and we now have nearly 50 trained female activators. We are extremely proud of all the effort our activators put in to make our National Programmes a success and provide brilliant role models to all the children who take part!!
In 2022 we received funding to deliver 14 programmes in deprived areas that could offer free places for children to participate in All Stars and Dynamos. 8 of these programmes supported our inner-city clubs Chellaston CC, Derby Congs CC, Rosehill Methodists CC and Alvaston & Boulton CC. We also had major success with our Kiwi Park centre that engaged local residents and our new club centres, Grassmoor Works CC and Langwith CC. We hope we can continue the success of these centres in future years and expand them to further areas of the county that are in need of support.
The National Programmes have proven a valuable way to provide young children with an exciting entry point to cricket whilst teaching them the basic skills of the game and important life skills such as teamwork and communication. We have also seen clubs thrive due to the added engagement with parents who have become involved with the club as volunteers or players themselves.
It was brilliant to also be able to provide money can't buy experiences throughout the summer to All Stars and Dynamos participants that included free tickets to England Men and Women's Games, free tickets to the Hundred and Guard of Honour opportunities at Derbyshire CCC games. In total we managed to give over 1000 children this experience and we are extremely proud of this achievement.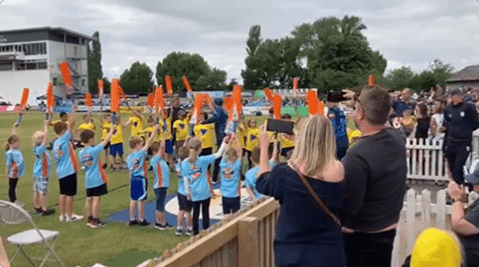 If your club would like more information about All Stars or Dynamos then please contact Tom Coxhead on Tom.Coxhead@dcfcricket.com
Share this post