Friday 12th August saw Derbyshire U11 Girls play against Yorkshire U11 Girls at Millhouse Works CC.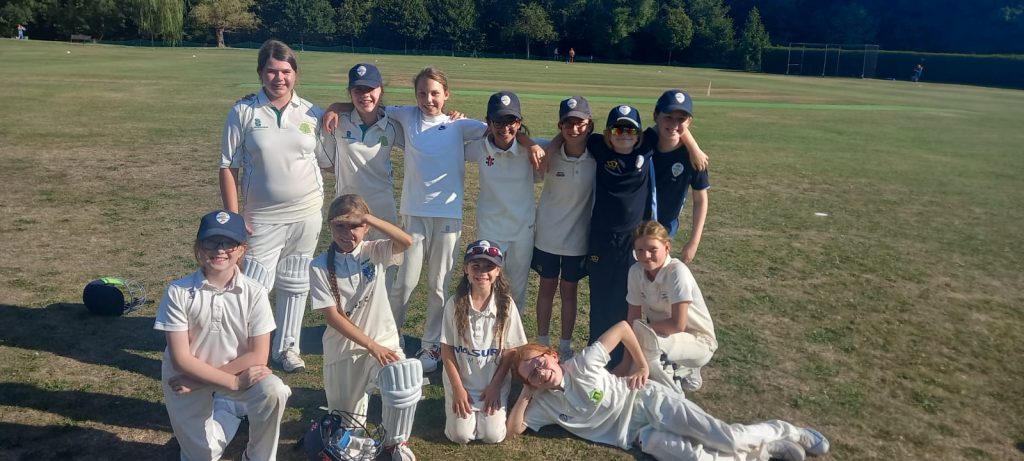 They played 2 matches the first of which was a Hundred. Derbyshire were missing some key experienced players which gave opportunity for some younger players to show what they can do. Due to no one having a coin it was decided that the toss would be contested via a game of rock paper scissors between the 2 captains. Anika Verma was the captain on this occasion and after drawing the first round unfortunately lost the next and Yorkshire decided to bat.
Yorkshire got off to a good start scoring 8 off the first set of five balls before Anika Verma took the wicket of the Yorkshire opener in the 2nd over. Phoebe Blurton and Daisy Flindall bowled well taking 2 wickets each with Poppy Ward and Teagan Gill bowling very economically going for just 6 each runs off their 10 balls and captain Anika got 2 fantastic run outs. There were catches for Phoebe and Hana-Mae but unfortunately Derbyshire's fielding and bowling was not as good as we have become accustomed to and allowed Yorkshire to get a total of 119-9 off their 100 balls including 28 extras.
Derbyshire's chase didn't get off to the best of starts as Penny Tanner was bowled 1st ball by a big in-swinging delivery. This brought Hana-Mae Carr to the crease to join Phoebe, and both batted well to put on a partnership of 84. Yorkshire's bowlers bowled very good lines and lengths and made it difficult for Derbyshire to score off the swinging deliveries and both Phoebe and Hana-Mae got out trying to push the run rate and despite some valiant efforts by the incoming batters Derbyshire finished on a total of 97-6 off 100 balls.
The intention for the 2nd match was to play another hundred but after the 1st hundred took 3 and a half hours to complete it was decided that the 2nd match would be a 10 overs per side match. Another toss was done (this time with a coin) and Yorkshire won again and decided to bat.
The Derbyshire girls were determined to do better in the 2nd match than they had in the 1st and started very well as Anika took a wicket on the 4th ball of the innings with her over only going for 1 run. The total grew for Yorkshire as Derbyshire continued to take wickets with Catherine Ratcliffe taking 2 wickets in an over. Derbyshire were back to their normal selves in the field with Anika and Teagan getting a run out each and Hannah Reast getting 2 run-outs. There was also a fantastic low catch from Autumn Beavan off the bowling of Hannah Reast; a wicket for Phoebe and Kyrie-Anna Shelton and catches from Poppy and Hana-Mae. Yorkshire finished on 64 all out off their 10 overs.
Derbyshire's opening pair were Penny and Poppy and after Penny was run out in the 2nd over, Anika came in at number 3 and after getting the team to 32 off 4 overs, Poppy then got run out. The total grew to 53 before Anika got run out but Hannah Reast and Teagan Gill saw Derbyshire home in 8.2 overs with Teagan Gill getting 15 off just 13 balls. A big thank-you must go to Suzie Ljubojevic who umpired for the whole day; anyone at the ground will tell you how hot it was and thank you also to Sandeep Verma for helping with the scoring.
Team: Anika Verma, Penny Tanner, Teagan Gill, Poppy Ward, Kyrie-Anna Shelton, Autumn Beavan, Phoebe Blurton, HanaMae Carr, Daisy Flindall, Elsa Maronge, Catherine Ratcliffe, Hannah Reast
Share this post