Another sunny day saw us back at Clifton CC for our home match against Staffordshire.
Today's format was agreed as a 30 overs a side contest. Anika Verma took on the role of captain for the first time and began well by winning the toss and electing to bat.
Penny Tanner and Poppy Ward opened the batting and made a cautious start to the innings in the face of some good bowling. They rode their luck and scored steadily until the 18th over when the coaches decided it was time to let someone else have a bat and retired Poppy on 35.  Staffordshire brought back their opening bowler who got the better of HanaMae Carr and Hannah Reast cheaply, before we retired Penny on 38.  This brought Ava Ford and Flo Taylor to the wicket in the 20th over with the score on 91 for 2. Anika Verma then joined Flo when Ava was out and these two batted enterprisingly through to the 30th over both finishing not out on 14 and 23 respectively, setting Staffordshire a total of 162 for 3 to chase.
After lunch we took to the field to defend our total. HanaMae soon made a breakthrough, bowling the Staffs opener on the first ball of her second over with the score on 6. The second wicket came in the 10th over, the Staffs player bowled by Hannah Reast. She then claimed a second wicket in her next over. Olivia Whitby then claimed the next 2 wickets, playing her first match for Derbyshire this season, the second one being caught and bowled to leave Staffs on 38 for 5 in the 15th over. Poppy Ward gave up the wicket keeping gloves to Penny so she could have a bowl, which resulted in a lbw wicket for her in her second over. She then took back the gloves to allow Penny to bowl. Penny then obliged by taking wickets with her first and 5th balls and another one in her 2nd over. Ava Ford came on at the other end and finished off the official innings taking 3 wickets in total with Staffs score on 69. We allowed play to continue to let the Staffs number 12 have a bat but the final wicket fell next over to the first ball bowled by Scarlett Adey.
This was another emphatic win by the U11s. All 12 Derbyshire players bowled and all with a good economy rate again, with just 4 no balls and 14 wides in total and the wickets shared between 7 players. Good debuts for Olivia Whitby and Elsa Maronge.
We go again next week against Yorkshire, this time in Sheffield. Go Girls!!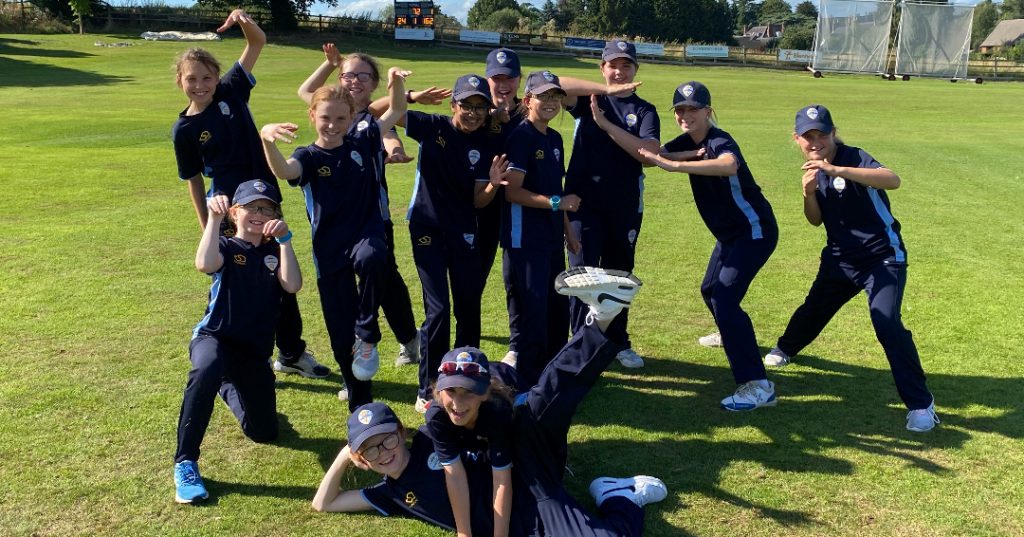 Today's team: Anika Verma (capt), Poppy Ward (WK), Penny Tanner (WK), Scarlett Adey, Autumn Beavan, HanaMae Carr,  Ava Ford, Hannah Reast, Flo Taylor, Teagan Gill, Olivia Whitby, Elsa Maronge.
Share this post