Chevin Homes are proud sponsors of the Derbyshire Cricket Foundation Women's Softball Festivals!

Women's softball festivals have continued to grow across Derbyshire over the past couple of years, to the point where we have been able to offer 23 festivals this summer!
Soft Ball Cricket is about getting out and playing: maximum fun, minimum fuss. No pads, no hardball, no heavy bat, no head-scratching rules. It's a game for absolutely everybody, no matter your skill level, fitness, or age. Playing time at Festivals is usually about two to four hours, so it never gets boring!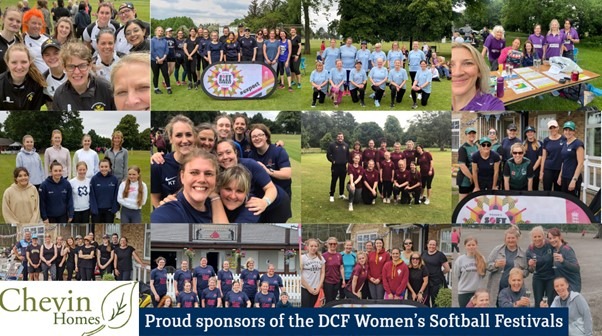 We are extremely grateful for the support of Chevin Homes for this year's festivals. Their support means that we can offer more opportunities for women across the county to get involved in cricket, and to continue growing this ever-popular format of the game.
Chevin's support has already enabled us to introduce over 100 new women to softball cricket across the 13 festivals delivered so far this summer, with 101 teams entered! With 6 festivals left to go this summer, including a big festival to round off the summer at Derbyshire County Cricket Ground, we are looking at record-breaking numbers for the number of women involved in softball cricket this year across Derbyshire.
John Fearnehough, Director of Chevin Homes, said:
"Chevin Homes are proud to sponsor the DCF's softball festivals for 2022 – it's great to see the rapidly growing popularity of girls and ladies' cricket in our region and we're keen to support this."
Club and Community Cricket Officer, Charlie Storr, said:
"Women's softball cricket in Derbyshire has been going from strength to strength over the past couple of years. We have 23 festivals running across the County this summer, providing more opportunities than ever for more women to give cricket a go. The support of Chevin Homes means that we can offer more festivals and make this summer bigger and better for women's cricket."
For more information about Chevin Homes please visit: https://www.chevinhomes.com/
You can find out more about women's softball festivals across Derbyshire and sign up to one over on our website: https://dcfcricket.com/womens-softball/
Share this post