Derbyshire vs Leicestershire, Rothley Park CC, 5th July 2022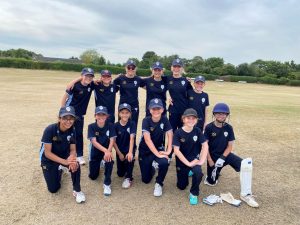 After overcoming the perils of the traffic on the A50 and M1, the U11s arrived at Rothley Park CC for our away fixture against Leicestershire, which was to be 2 x T20 games and our first experience of fielding restrictions and power plays this season.
Today's team was a relatively young team, including 4 Under 9s and 3 Under 10s in the 13 and also welcomed 4 new players, Catherine Ratcliffe, Eva Ryder, Olivia Crombie and Autumn Beavan, with Phoebe Blurton making her debut as captain.
Leicestershire won the toss and chose to bat first on a very green and sloping pitch. Phoebe opened the bowling up the hill and removed the Leicestershire opener third ball, bowled. The very next ball, their number 3 was out to a superb low catch at cover by Darcy Wall. Leicestershire then rallied to 41 for 2 before Ava Ford came along with some express pace to bowl their number 4 in the 9th over and number 5 in the 11th over. Poppy Ward took a nice caught and bowled in the 17th over, and Leicestershire finished their 20 overs on 88 for 5. Fielding was good throughout – generally well placed to cut off boundaries with the sloping pitch and a special well done to the downhill bowlers many of whom found it quite tricky to cope with the slope.
Ava Ford and Flo Taylor opened the batting, Flo getting bowled by a good ball early on. Phoebe replaced her and together with Ava, they scored the required 89 runs to win the match. Ava finished on 54 not out from 41 balls with 8 fours (although Phoebe contests that one of the 4's was hers!).
After lunch we played again, this time with Derbyshire batting first. Emily Turner and Catherine Ratcliffe opened the batting. Emily scored a quick 9 runs including 2 lovely shots for boundaries for being bowled in the second over and replaced by Poppy Ward. Catherine and Poppy then batted until the 11th over when Catherine was out for 9. Poppy continued for a couple more overs before being out for 45 from 44 balls, including 6 fours. Good contributions from the rest of the batters took us to an excellent total of 149 for 5 in our 20 overs.
Leicestershire began their run chase, but again, Phoebe took 2 wickets in her first over. Eva Ryder did the same, with 2 wickets in the 5th over. Not to be outdone, Emily Turner took 2 wickets in 2 balls in her single over, then executed a good run out in the next over. Another runout, this time by Phoebe in the 13th over left Leicestershire at 54 for 8. Enter Olivia Crombie for her first over, the 15th of the innings. However, it was short-lived as she bowled the last Leicestershire player with her first ball for her first wicket for Derbyshire. Leicestershire were all out for 60 in 14.1 overs, giving Derbyshire the win by a margin of 89 runs.
This was another excellent pair of wins for the team and great to see some of the newer and younger players making good contributions with both bat and ball. Fielding and team spirit were good again and Kyrie-Anna Shelton and Poppy Ward both made a great job of wicket keeping on what was quite a tricky sloping track. Phoebe lead the team well, coping with the added pressure of the fielding restrictions. We are looking forward to taking on Nottinghamshire home and away in the next few weeks to see if we can continue our unbeaten run.
Today's team: Phoebe Blurton (Capt), Poppy Ward (WK), Kyrie-Anna Shelton (WK), Emily Turner, Catherine Ratcliffe, Hannah Reast, Ava Ford, Olivia Crombie, Eva Ryder, Autumn Beavan, Flo Taylor, Darcy Wall, Daisy Flindall
Derbyshire vs Nottinghamshire, Retford CC, 11th July 2022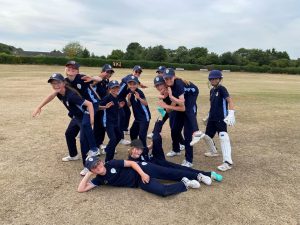 Our longest trip of the season so far took us to play Nottinghamshire U11s at Retford CC. The scene was positively Caribbean with hot sun beating down on a brown pitch with hardly a blade of green grass on the outfield. Two games were planned, firstly a T20 followed by a Hundred ball game, both with power plays and fielding restrictions.
Today's team saw the return of most of the U11s who weren't available against Leicestershire last week including Ruby Swan as captain, and she carried on as before by winning the toss and choosing to bat first in the T20.
Penny Tanner and Emily Turner opened the batting and made a good start racing to 46 after 7 overs before Emily was out for 25 of 29 balls. Phoebe Blurton joined Penny at the wicket and made a bright 22 before retiring not out with a sore foot. Ruby Swan then joined in the fun and finished on 14 not out, with Penny out for 46 bowled off the last ball going for a big shot in an attempt to reach her 50, setting a total of 120 for 2 after our 20 overs.
Anika Verma and Ava Ford were our opening bowling pair today and had Notts 5 wickets down for 19 runs within the first 4 overs – 3 wickets falling to Anika and 2 to Ava. The remaining wickets were shared between Phoebe Blurton who took 2 wickets in 2 balls, Olivia Crombie 2 wickets and Ruby Swan with tidy bowling from everyone else limiting Notts to 70 all out after 13.5 overs.
After lunch we had our first experience of a "Hundred" game. Notts asked us to bat first again which we were happy to do, this time with a different opening partnership of Flo Taylor and Ava Ford who made it to the 31st ball before Ava was out caught for 26 off 24 balls. Phoebe Blurton and then Anika Verma joined Flo to take us to an excellent 116 for 3 off the hundred balls. Anika finished on 26 not out and Flo was out for 42 off the last ball going for a big hit. Despite the heat, the batting and running between wickets was excellent leaving Notts a challenging total.
Having finally cooled down after batting through the innings in the first game, Penny Tanner returned to the field to join Anika in opening the bowling. The Notts openers resisted for 29 balls before Penny made the breakthrough bowling the Notts number 2 with the score on 26. Ruby Swan then joined the attack taking 2 wickets in her first 5 ball over, the first to a good catch by Flo Taylor, leaving Notts at 27 for 3. They recovered to 69 for 3 before our new secret weapon Olivia Crombie came on to bowl and took a nice wicket caught and bowled. The following over Penny effected a good runout and the over after that another of our new secret weapons Kyrie-Anna Shelton, having given wicket keeper gloves to Penny also took a wicket caught and bowled. With just 5 balls left Notts needed 37 to win. Darcy Wall bowled the last over, conceding just 9 runs and sealing another excellent victory for the as yet unbeaten Derbyshire U11 Girls.
This was another excellent pair of wins for the team in extremely hot conditions. It will have taught them the importance of hydrating more than you'd think, wearing a hat and suncream and keeping out of the sun as much as possible. Our thanks also to Retford CC for having a lovely cold room as their beer store where some of the players spent a bit of time cooling down; although I can assure you that no beer was consumed in the process! Well done again girls.
Today's team: Ruby Swan (capt), Kyrie-Anna Shelton (WK), Penny Tanner (WK), Emily Turner, Ava Ford, Olivia Crombie, Flo Taylor, Darcy Wall, Daisy Flindall, Scarlett Adey, Anika Verma, Phoebe Blurton, Teagan Gill.
Thanks to Sandeep Verma for scoring.
Share this post