Grassroots Volunteer Awards Event
We are pleased to be able to share the categories for this year's Grassroots Cricket Awards that celebrate our volunteer superstars.
In what has been a great summer so far, what better way to reward your fantastic volunteers by nominating them into one of the award categories. We know there are lots of worthy nominations at every club in Derbyshire!
We aim to invite all nominees to our Grassroots Cricket Awards on Friday the 12th of August during the Derbyshire Royal London 50 over game v Hampshire.
This year there are 15 award categories that will allow us to recognise and reward those in your clubs that have made an outstanding contribution to cricket this year, be it a young volunteer who has gone over and above or a club that has excelled in opening up the game to a brand-new audience this summer.
See the list of categories within the nomination form below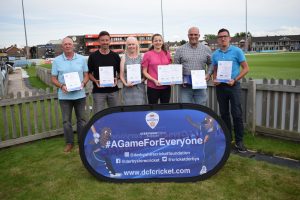 Within the attached document we have provided detail of each category plus the judging criteria for each category. If you have volunteers within your club who you believe deserve to be nominated, please click here to complete the simple nomination form!
Nominations will close on the 29th of July 2022.
DCF Summer Falcons Courses and 1-1 Coaching
Our Summer Falcons Courses are back for 2022!
We have a range of courses all over the county including Hardball, Softball and Girls Only.
All the courses and information can be found via our website: Click Here
We will also be running 1-1 coaching at select venues during the summer, all of the booking details can be found here: Click Here
If you do have any further questions, please contact james.colton@dcfcrcicket.com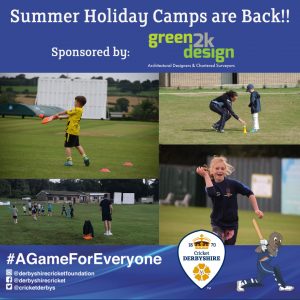 Job Opportunity: City Programmes Officer
The DCF are recruiting! DCF are advertising for a new, exciting role, 'City Programmes Officer'.
City Programmes Officer
Derbyshire Cricket Foundation are seeking to appoint a City Programmes Officer to develop and deliver cricket in Derby City. The City Programmes Officer will support the development and delivery of key cricket programmes in Derby City with the aim of growing the number of players, volunteers/ officials engaged in cricket in Derby City. Around a quarter of the population of Derbyshire live in the city of Derby, and the city includes areas where levels of deprivation are relatively high, and levels of physical activity and cricket participation are relatively low. New ways of engaging diverse and hard-to-reach communities will be required and will form a key part of this new role. The role will also oversee the DCF's Chance to Shine Street programmes, City based National Programmes and other initiatives aimed at improving access and opportunity. The role will be responsible for developing and delivering key programmes within Derby City.
The job advert and all information can be found on our website: https://dcfcricket.com/job-opportunities/
Closing date for applications is the 29th of July!!
Please could you share this with your club membership and with anyone you think might be interested in the role
Women's Softball Festivals!
Our popular softball festivals are back for 2022!!
They have been going very well so far! We have over 10 festivals left, with places still available.
Our host venues are chosen with 23 festivals throughout the summer!
All the info, dates, venues and how to book can be found here: Women's Softball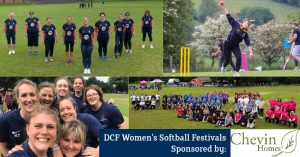 Coach Education
We have a comprehensive schedule of coaching course planned over the summer. This is the most courses we have ever put on in a calendar year with courses in different areas of the county!
For more information about each course please visit Coach Education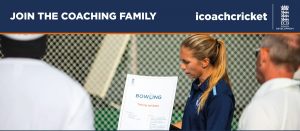 County Grants Programme
Are you thinking of improving your cricket club facilities? Do you want to create a more welcoming environment for your members? If so the County Grants Fund could be of interest to you. The fund aims to support affiliated cricket clubs to create welcoming environments, provide enhanced facilities and playing opportunities, and to help clubs tackle the impact of climate change.
We still have budget available to support clubs with grants between £1000 – £10,000.
There are three key themes in the programme:
Creating Welcoming Environments – open to affiliated cricket clubs registered for All Stars or Dynamos in 2021, or actively involved with women's and girls' cricket and/or disability cricket. It is an expectation that any junior programme will include and actively engage with girls.
Enhanced Facilities and Playing Opportunities for Women's and Girls' Cricket and/or Disability Cricket – open to affiliated cricket clubs actively engaged in competitive female-only cricket and/ or disability cricket.
Tackling Climate Change (supported by Sport England) – Open to any affiliated cricket club.
For more information please click here
Share this post