On a beautiful sunny day in the Derbyshire dales, Derbyshire Over 50s started their season with a home game against Durham at Station Road, Darley Dale.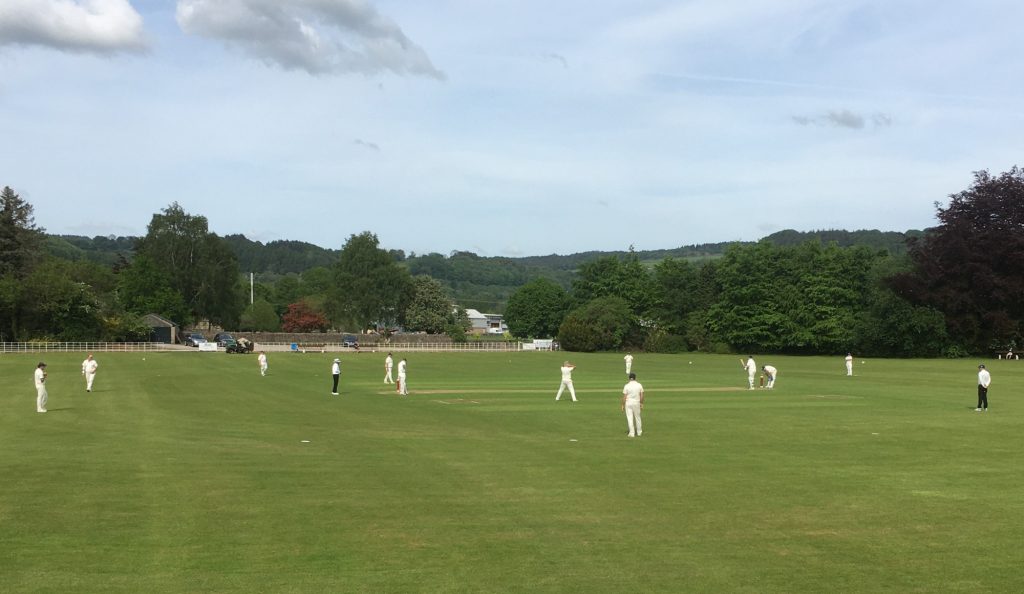 Captain Martin Brandrick was out injured for the first game and was replaced as Skipper by Ian Banks. The toss went the way of the visitors who decided they'd have a bat. Derbyshire included in their ranks a debutant to Over 50s circles with Spondon's Andy Brear coming in to bolster the top order.
Derbyshire's opening attack of Keith Cheetham and the ageless Raf Ali were soon into their stride and it wasn't long before Raf picked up the wicket of former Denby player Peter Scott LBW for 0. This breakthrough spurred on Cheets from the other end and he produced a fantastic spell of seam bowling taking 2 for 10 from his 9 overs, both wickets LBW. When Paul Champman replaced Raf, Derbyshire picked up their 4th wicket with an Andy Brear run out seeing the demise of Burgess for 1 this reduced Durham to 43-4 in the 17th over, Calvin Stephenson who has been linked with an England 50+ call up tried to up the anti for Durham, but Bolstridge and Chapman were still controlling the run rate and both picked up wickets in reducing Durham to 64-6. Bolstridge finished his spell with 1 for 21 from 9 overs. Rob Kettlewell replaced Chapman and was unfortunate not to pick up the Durham No.8 for 0 when Cheets dropped a chance at short fine leg which would have reduced Durham to 75-7. Unfortunately, this would be a major turning point in the game as Durham's Unsworth (56) and Myers(39) put on 85 for the 7th wicket, before Cheets redeemed himself with a catch at backward point to give Kettlewell his much deserved first wicket in a spell of 9 overs 1 for 32. Captain Banks and Steve Fisher combined to bowl the final 5 overs of the Durham innings which ended on 159-7 from 45 overs.
This was a very good bowling performance from Derbyshire and there was a definite feeling that this target could be chased down in the discussions at tea.
A new opening partnership of Banks and Brear set out in chase and they started off in fine style going at 5 an over before Brear was held behind for 7 with the score on 19. Banks was joined by Paul Allen and these two really put the pressure on the Durham attack adding 56 for the 2nd wicket, before Allen was 'adjudged' LBW for an excellent 28. Derbyshire still in control at 75-2 in 21 overs. Unfortunately after drinks, Banks was soon to follow Allen back to the pavilion for a well-made 41 and this sparked a middle to late order collapse that included 5 (Five) LBW's with only Amjad Khan making double figures with a score of 22. When Steve Fisher was the last man out in the 42nd over Derbyshire were 20 runs short.
A disappointing defeat for the 'Peakites' as for 75% of the game they were the dominant force.
The full scorecard can be found here: https://derbyshirecb.play-cricket.com/website/results/5040507
Thanks must go to the Groundstaff at Darley Dale (Craig Elliot, Charlie Cresswell & Rob Jordan) for putting in a tremendous amount of work beforehand to get the outfield and surrounds looking so well and to the club members (Chris Hartley, Simon Cotterill & Roy Bolstridge) who looked after us so well on the day. We look forward to returning for our fixture in July against Cheshire.
Next week, 25th May, we entertain Northumberland at Etwall Cricket Club, where we hope we can pick up our first win of the season.
Share this post