Buxton Cricket Club has seen women's cricket dating back to 1889 as seen below. However, many years have passed since then and they have started to create their new story in the new millennium.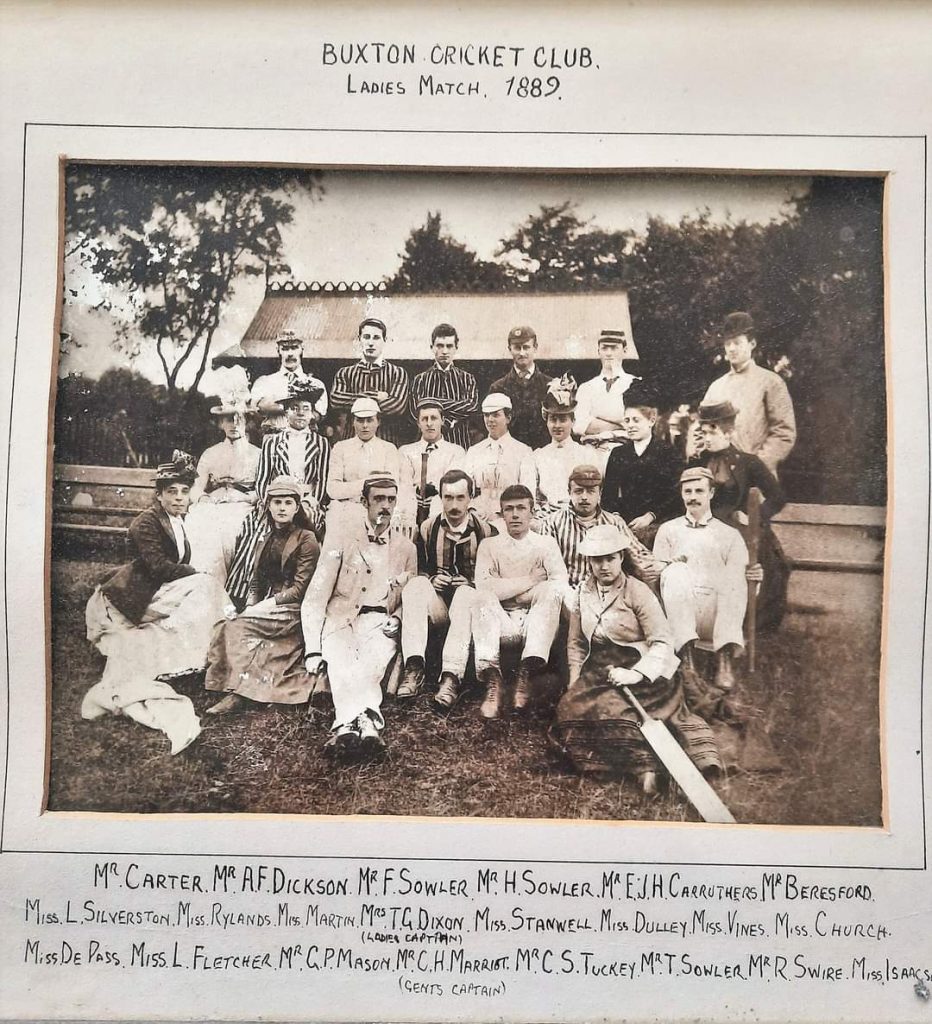 We spoke to Rick Lewis at Buxton CC to hear more about how they got their current women and girls section going again, and what is next for the club going forward.
How did you get the women's section started at the club?
During a club AGM in 2019, the Chairman mused that it would be great if we could field an all-girls Junior Team within the next 5 years.  I put it to him that we should start by forming a Women's Team with the view that these players would bring their children along or would then introduce cricket to their friends.
Soon after, we went to a DCF Forum at Matlock CC where Charlie was presenting the details about Women's Cricket in Derbyshire and how successful it had been both on and off the pitch.  Two inspiring stories stood out; Belper Meadows starting with two players which by the end of the season had grown to 27 players, and; Matlock having held their first festival, which was a great success and attracted many people, young and old, to visit their ground to enjoy both the cricket and the festivities they'd laid on.
Straight away we approached some of the Mums and Wives back at the club about our desire to start a Women's Cricket Team.  Quite a number were up for it and so we put together a Whatsapp group.  These forerunners then started to invite their friends and family to the group.  Within no time we had about 34 people listed. It was then Spring 2020, the first practice sessions were planned to start in early April.  Then, the asteroid that is Covid-19 struck and so we had to postpone.
But, in July we were up and running.  At the first practice, only 8 players turned up.  Hence uncertainty arose as to whether this was going to take.  We needn't have worried since the next week there were 24 players there and a coach in total panic!!
Believe it or not, with party hats on and Christmas music playing, we were still practicing outside in 30C on December 14th.  That's how high the enthusiasm for the game was and still is.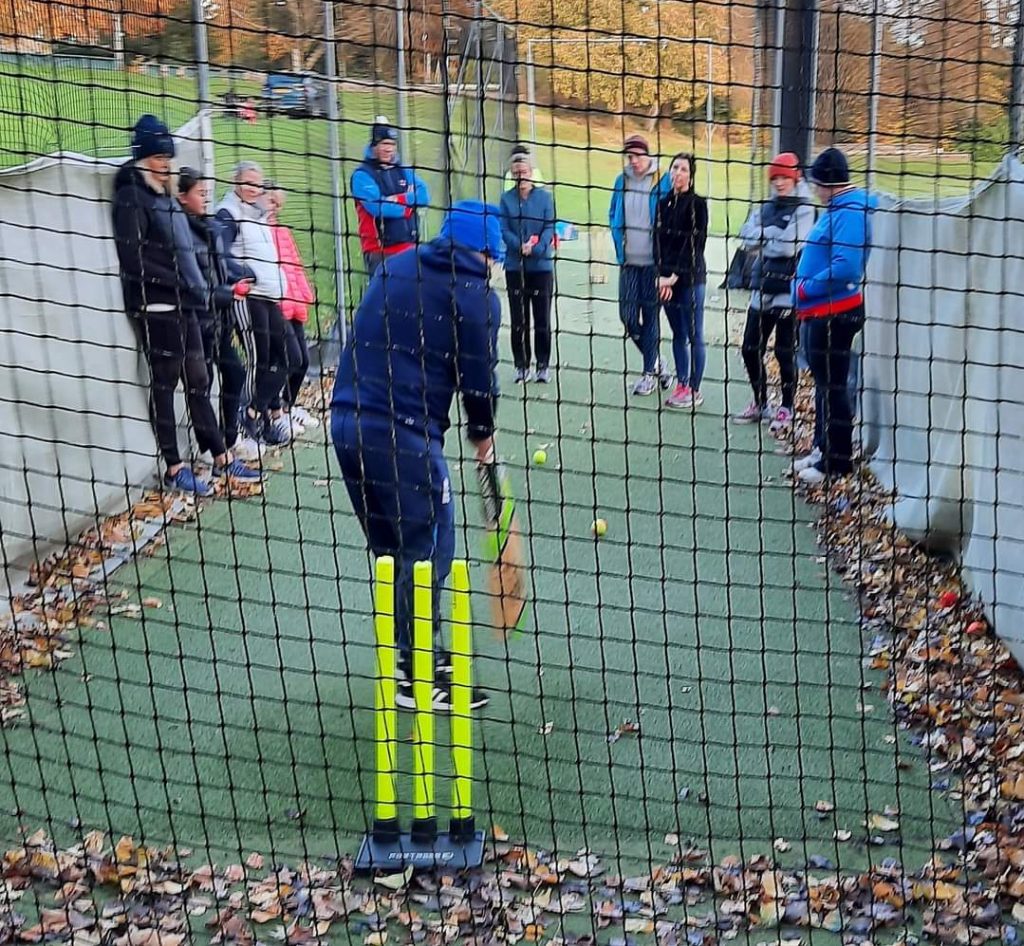 What does women and girls cricket look like at your club right now?
The club currently has around 50 female players in the Women's and U13 girls group, as well as a pathway forming from softball festival cricket to softball league cricket, and then onto a hardball league team. Many of the junior girls involved play in the junior hardball teams, but we currently don't have enough in the respective age groups to have a girl's only team. For the women, those giving hardball cricket a go train on a Friday night, with the softball players on a Wednesday evening. We have also seen a few of the women's players have started to attend the 3rd and 4th team training sessions.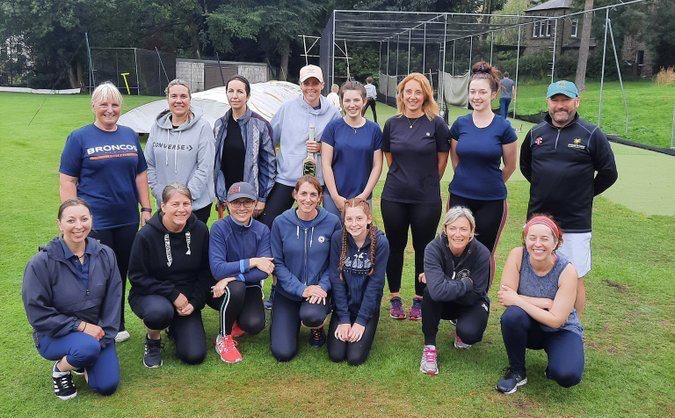 The club also has 5 female coaches who have completed their ECB Foundation I coaching badges. These 5 coaches are a real asset to the club. Not only do they run the women's softball practice, but they also help out with the junior practice.
The advent of All-Stars and, more recently, the Dynamos Cricket, is attracting a good percentage of female cricketers. The support we are getting from the DCF in our local schools, ahead of the sessions beginning, is proving really fruitful and I have heard many a testimony that supports this.
In 2022, we hope to field our first player, that has come through the advent of Women's cricket at the club, in one of our Senior Teams. There are a number of players we are keeping an eye on, in the hope that they will join the 3rd and 4ths practice during the Spring and Summer.
What benefits has the club seen from having a women and girls section?
Women's cricket has totally transformed Buxton CC.  I would go to say that they are the 'Heartbeat of the Club'.  They have dragged the club into the New Millennium!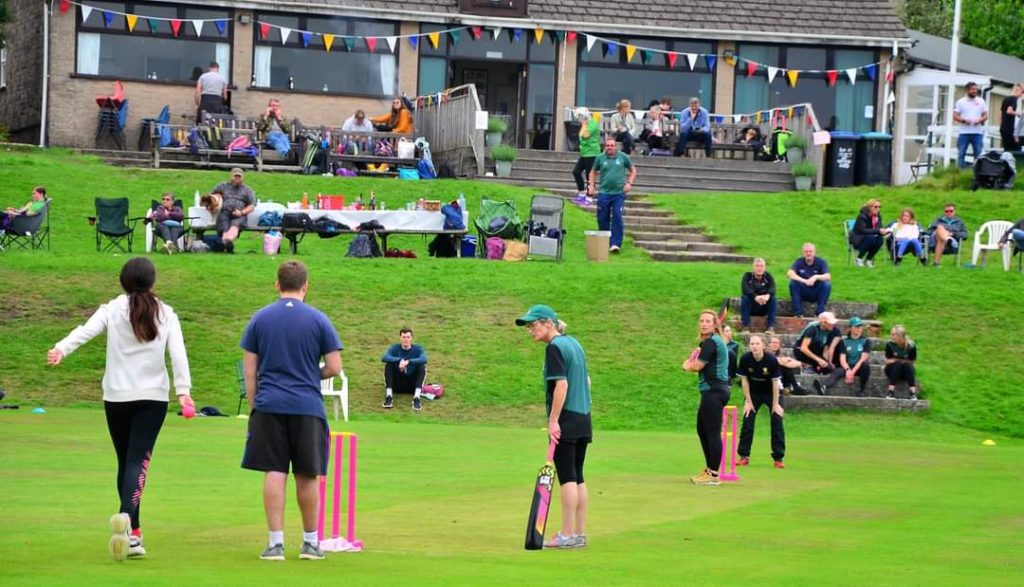 The social sphere of the club has become much more inclusive and many new players have been attracted to the club. They initiate much of the new things happening at the club. For instance, in 2021, we held our first Christmas Party that was attended by members from all levels of cricket in the club and their families.  This was organised by a womens player within our club who has now become a Social Secretary, Cate Allen.
Our biggest event in 2021 was the day we run our first ever full Women's Softball Festival in September. We had to accommodate for 8 team taking part (3 from Buxton).  This too was organised by a Womens Player, Sara Allen.  She formed a small committee of Women Players to plan and co-ordinate the event.  All tasks were then shared out amongst many players within the club, both male and female.  We got a lot of sponsorship and held many activities on the day.  We even had a brass band!!  It was the biggest social fund-raiser the club has ever organised.  And, it came at the right time as we were trying to get the club into an improved financial footing after the effects of Covid-19 restrictions.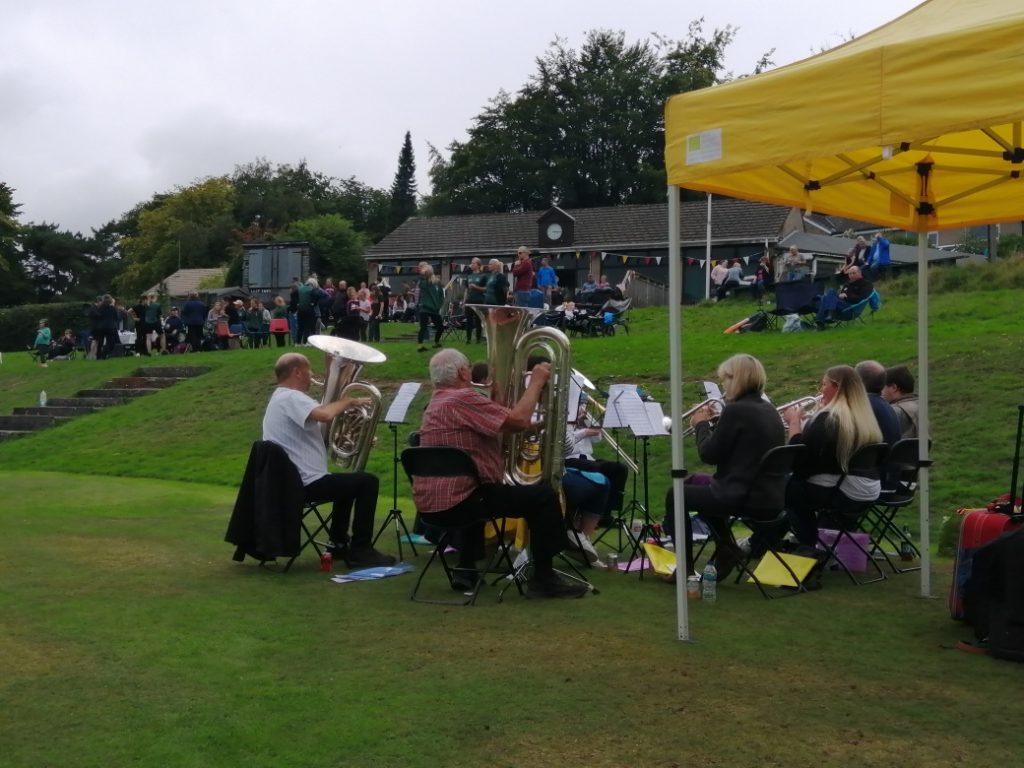 From a wider perspective, Women's cricket has created many new friendships. The strong bond they have is there for all to see.  The group organise many activities outside the club like going to Derby to watch International Women's cricket. Beyond all of this, the introduction of Women at Buxton C.C. has given the club more abilities and contacts to pull on.  This really cannot be underestimated.  The skills players bring into the club from their jobs and the contacts they have lend themselves to help the club to grow.
What does the future hold for your clubs' women and girls section?
The Women Section continues to grow and we are still welcoming around 2 new players each month!
During the Winter, on a Saturday morning, we have been holding family indoor cricket matches. These involve players from all levels of the club, from 2nd teams players to U9s.  There is a good representation from the Women's section.  It's been a massive success and is really enjoyable.
The Women are now well and truly integrated into the Club's Management Structure. And, some are present on the Cricket Committee.
The roles we have created are:
Sara Allen – Lead Softball Coach. She has the support of 4 the other female coaches and some male coaches
Lou Whitehouse – Women's Cricket Co-ordinator: She is the focal point for: registering players, collecting subs, League and Festival match registration
Amy Simcox – Women's Club Development Officer: She works with the Club's Committee to; help generate funds, and; on work to develop facilities at the club
Alyson Phillips and Helen Stewart – Schools Liaison Officers: They will be working with the local schools to promote Girls Cricket.  They will be ably supported by some of the female coaches
Cate Allen – Social Secretary: As previously mentioned, Women's cricket has made the club more sociable and family orientated.  In her role, as part of a small team, Cate will be helping to organise many activities during the year.  The first one being an Internal 20/20 Cricket Day on 16th April.  As part of this, a women's team will play our U13s.  There will be other activities going on throughout the day and night
Corryn Walker – Club Welfare Officer
One of the things we are looking to appoint is into Women's cricket is an Operating Officer and Pathway Manager.  This will be a vital role to ensure we can control and sustain what has a been a real success story for the club.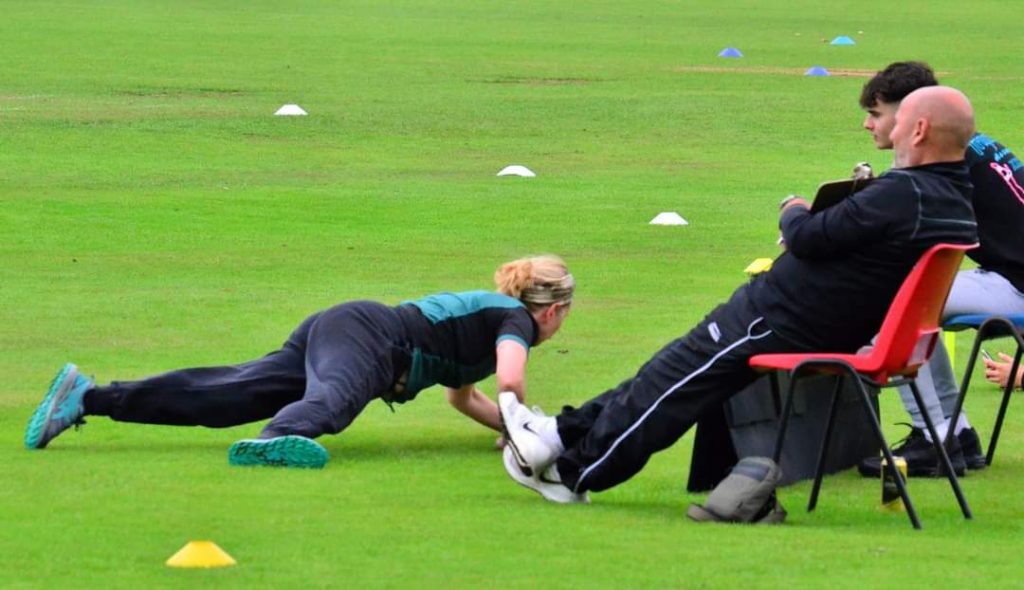 What advice would you give to other clubs wanting to get more involved in women's cricket?
Give it a go!
Don't underestimate the popularity
Grow your supporting structure as the numbers grow
Ask for players to take on additional responsibilities where they can
Make the practice sessions focused but enjoyable
Use the DCF for guidance
Seek advice from other teams who have already started the journey
Use social media to promote your clubs vision on wanting to form a Women's/Girls cricket team
Perhaps, if you have the numbers in the Dynamo's, Junior age groups you could play a mother/guardian game vs the young girls
Once you have the numbers, give yourself some identity by giving yourself a team name.  It generates fun away from the actual game.
Get players to buy their own balls. If you can find a person to do it, order the balls in bulk. It's much cheaper!!
Look to get your own kit (top)
Look to integrate the Women's Team into the general club structure by giving the women players roles.
Once you've got the numbers and had a few practice sessions get yourselves involved in a festival some established team is running. You'll see how it's run and will learn so much about how to run your own.  The DCF will help you to do this.
Running your own festival is such a challenging but enjoyable event. Not only that, it helps your integration into your club set-up because you'll be seeking help from the male ranks and the money it generates will contribute significantly to club funds
Seek out the initiatives like #thisgirlcan, #wegotgame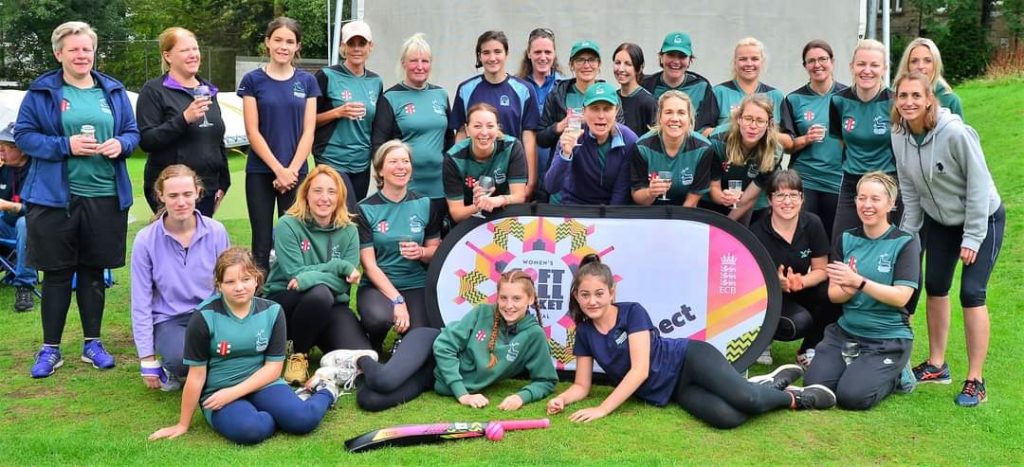 If your club is looking to get involved with women and girls cricket, please contact Charlie Storr at charlie.storr@dcfcricket.com for more information and guidance.
Share this post