The Derbyshire Cricket Foundation is running a brand new project supported by our friends at Derby County Community Trust, Making Space and Age UK Chaddesden Park.
This project aims to use sport as a vehicle for reminiscence and interaction between people with dementia, their carers and those experiencing isolation and loneliness. Sessions are held at the Derbyshire County Cricket Ground, Nottingham Road and St Philip's Church, Taddington Road on a monthly basis. A typical session allows attendees to take part in group chats, quizzes, chair-based games and enjoy a nice cup of tea or coffee.
Participants can also come along to our physical activity sessions in the Performance Centre at Derbyshire's County Ground, where they can expect a variety of different sports on offer to play, including cricket, tennis and curling. This allows people to be active in a safe and encouraging environment.
The programmes give those with dementia the chance to express themselves and remain both physically and mentally active. Carers who attend have the opportunity to establish an informal support network with others who can empathise with their situation through experience.
Funded by the Severn Trent Community Fund, sessions are free of charge, no need to book just turn up on the day. Please see below the starting dates and times:
DCCT Sporting Memories Monday 4th April 10:00am-12noon- Ran by Luke Wilkinson from Derby County Community Trust@ St Philips Church, Taddington Road DE21 4JU. Contact email address Luke.Wilkinson@dcct.co.uk (sessions usually take place every 1st Monday of the month)
DCF Reminiscense group sessions: Monday 11th April 10:00am-12noon- Ran by Charlotte Flindall from Derbyshire Cricket Foundation @ Derbyshire County Cricket Club, Legends Lounge, The Performance Centre, DE21 6DA (sessions usually take place every 2nd Monday of the month)
DCF Physical activity sessions: Wednesday 6th April 10:00am- 11:00am- Ran by Charlotte Flindall from Derbyshire Cricket Foundation @ Derbyshire County Cricket Club, The Performance Centre, DE21 6DA (sessions usually take place every 1st Wednesday of the month)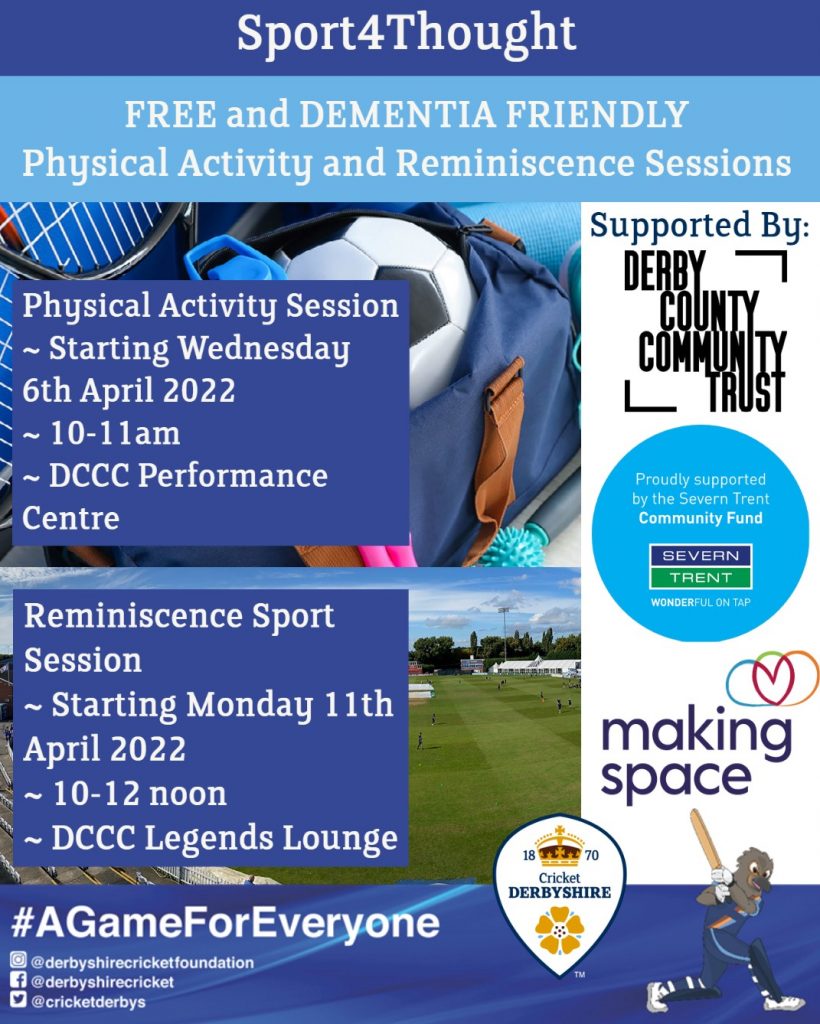 For more information, please contact charlotte.flindall@dcfcricket.com or 01332 386601
Share this post