Over the past year, the Derbyshire Cricket Foundation have been helping out in the local community and providing ways to remain active and entertain while we are all at home. A number of First Team players and Staff from Derbyshire County Cricket Club have been volunteering their time to help the DCF in their efforts.
Back in May 2020, the DCF began an 'Ask the Pros' series where we got our followers to submit their questions for some of the First Teamers. Fynn Hudson-Prentice, Luis Reece, Sam Conners, and Tony Palladino all got involved and answered a range of questions to give followers an insight into their experiences and opinions.
In December, the DCF did a lot of work delivering and donating food to those in need within the Derby City area. Working in association with the Aspire Wrestling Alliance and their Food 4 Thought Alliance collection, First team captain Billy Godleman assisted DCF staff with the drop off of food donations. Billy again assisted with the delivery of meals to those in the Derby City area alongside Nick Potts.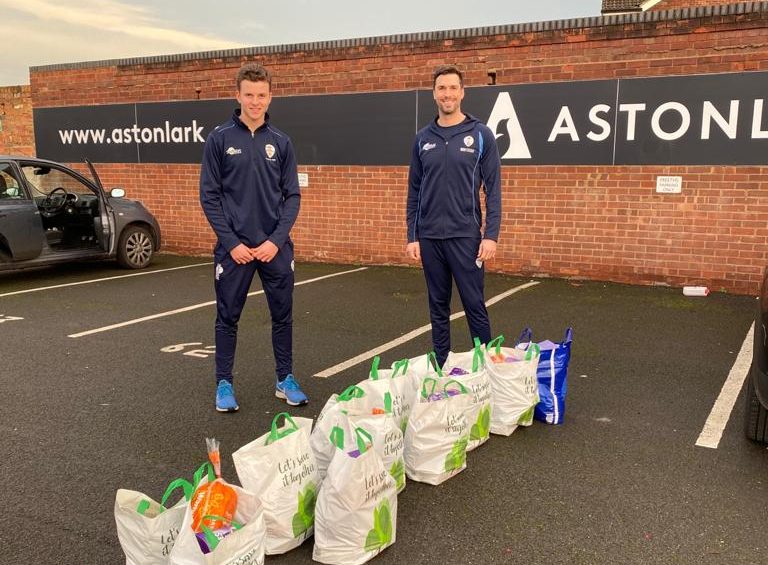 On Thursday 4th February, the DCF and the DCCC all came together to support Time to Talk day. This is a campaign that looks to help change the way that people think and act about mental health. To show our support, staff, trustees, and players all took time to make a pledge that we would all take time to talk about our mental health. Bringing the whole of Cricket Derbyshire together to support such an important cause was excellent, and something we will continue doing going forward.
You can watch the video here:
The DCF have also been running a series over on their social media to encourage people to remain active at home, with a range of different Cricket at Home activities. Players such as Fynn Hudson-Prentice and Matt Critchley have taken time to help with the creation of the videos and providing their own drills for people to get involved with. This series is still running, so make sure to go and check out the DCF on social media so you don't miss them!
There will also be a series of strength and condition exercise videos going live on the DCF social channels. We have been working with DCCC S&C coach Jonty Norris to provide a range of exercises for all players to help them prepare for the up and coming season. Keep an eye on our social profiles for when these go live!
You can find all the cricket at home videos and the S&C programme HERE
Share this post