Throughout May, Sandiacre Town CC are running a "Virtual Lap" around all 18 the professional cricket grounds in England and Wales! While the club are unable to take to the field due to the ongoing Coronavirus restrictions, they wanted to do their bit in the community, during a time when people need help more than ever!
The club started a running group, a good way to keep active during lockdown and a period of no sport. This is also a good way of keeping members interacting with each other and keeping cricket and the club at the forefront of their minds.
It was then decided amongst the club to try a big challenge for charity. The chosen charity is "Mind", a charity that supports mental health. Their mantra is:
"We provide and empower anyone experiencing mental health problems. We campaign to improve service, raise awareness and promote understanding. We will not give up until everyone experiencing a mental health problem gets support and respect."
From this it was decided the "Virtual Lap" of the first class county cricket grounds was the way to go, a good link to cricket! The challenge is to, as a club, run the entire 1755km distance before the end of May!! So, in short, 22 players, 31 days, they would have to average 56km per day as a group! All the players will be recording their running distances each day. Have a look at the map of the route below!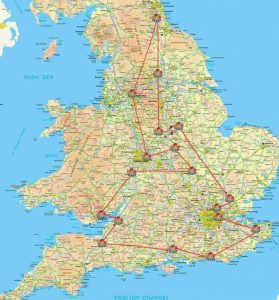 Bill Anderson, club captain at Sandiacre Town, said:
"We picked Mind as they are a charity close to our hearts. A lot of support is going into charities dealing with the physical effects of COVID-19. We thought it would be good to support the mental side. With people loosing loved ones and losing their jobs, as well as the stress of being cooped up at home."
The club has set a target of £2000 and they are well on their way to achieving that! The just giving page currently says they are on £440. So far, they have managed to complete some of the longer legs past Yorkshire, Durham and Lancashire and they are now on the way to Edgbaston, home of Warwickshire! The just giving page can be found at: https://justgiving.com/team/SandiacreTownCC and daily updates on the teams progress can be found on Twitter: @sandiacretowncc.
This is fine example of a cricket club making a difference in the community and is great to see! Particularly during a time when the cricket club itself may be suffering from depleted revenue's during what should be its busiest time of year!
Well done to Sandiacre Town CC and to everyone involved on this challenge!
If your club is doing a similar challenge, helping in the community, or undertaking any fundraising, we would love to hear about it! Let us know and get in touch with Charlie.storr@dcfcricket.com or contact us on social media!
Share this post